The IV Horsemen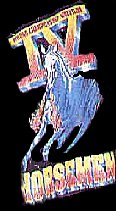 History
(this is just getting started)

Click here to access a list of their PPV and big event mathces completed with the aid of Wrestling Supercards and Tournaments

For a complete history with classic pictures taken from NWA TV, visit The Illustrated History of the Four Horsemen
Flair, AA, Ole Anderson, and Tully Blanchard
The Original Four Horsemen were formed in 1986 in the National Wrestling Alliance. Arn and Ole comprised the Minnesota Wrecking Crew and frequently held both of the tag team titles. They joined with Flair (usually the World Champ) and later recruited Tully Blanchard (occasionally the TV Champ). The first (and many subsequent) edition was managed by J.J. Dillon (who can be seen now as the on-screen Chairman of the Executive Committee in WCW). During the early years, the Horsemen had classic feuds with the likes of Dusty Rhodes, the Rock 'N Roll Express, Barry Windham, and Ron Garvin. After a few months of total domination, the Horsemen added a new charge, Lex Luger. He served as sort of an "apprentice" to the group, until Ole Anderson was kicked out for caring too much about his "snot-nosed kid." This lead to...

Flair, AA,Tully Blanchard, and Lex Luger
This combination didn't last long, however. Lex wanted a shot at Flair's world title, which, of course, he wasn't going to get. Lex dropped out of the group and sided with Barry Windham. The team of Luger and Windham took the tag belts from Arn and Tully at the first Clash of the Champions. In a later title defense, Windham would turn on Luger and become the fourth Horsemen.
Flair, AA,Tully Blanchard, and Barry Windham
After his turn, Windham won the US belt, which gave all 4 members gold around their waists. Not soon after, however, Arn and Tully left for the WWF, leaving Flair and Windham as the only Horsemen. About a year later, Ric Flair was saved from an attack by the Minnesota Wrecking Crew (Arn and Ole) and three of the originals were reunited. Eventually, a fourth member was added...
Flair, AA,Ole Anderson, and Sting
This group didn't last long, either. After Sting won a shot at Flair's title, the Horsemen told him he had to give it up or get out of the group. Before he could decide, Sting was jumped by the other Horsemen. After sitting out an injury, Sting came back to defeat Flair for the title.